JOMY counterbalanced ladders have counterweights for smooth opening.
The sliding counterbalanced ladder can be released from below to provide lockable access to mezzanines or rooftops. This JOMY ladder can also be released from above to provide safe egress from the bottom of existing fire escapes or other applications.
Counterbalanced lead weights are concealed inside the patented side rails of the JOMY ladder for smooth and reliable deployment, regardless of whether snow, ice, or salt air are present.
JOMY counterbalanced ladders are aluminum constructions with nylon bushings and stainless cables and fasteners. These materials provide a life-time of rust-free and maintenance-free service.
Custom heights, widths and OSHA compliant cages are available to suit any requirement.
Main features
The sliding ladder is counterbalanced by counterweights in a post that is parallel to the ladder upright. On release, the ladder descends softly. Remounting the ladder afterwards requires a very limited force ("one finger"). Release of the sliding part is possible from above, from below or from side with 3/4 safety cage on the top part of the ladder.
The maximum clearance height is 3m. The counterbalanced ladder has a length equal to the clearance height plus 84cm (or 3 rungs).
Standard sizes
Modular aluminum standard elements for easy specification, transportation, and installation.
JOMY Counterbalanced fire escape ladders are composed of standard modular aluminum elements, combined to the desired height. Individual elements are designed and packaged for easy installation and transport.
The maximum clearance height of a counterbalanced ladder is 3m. The sliding part has a length that is equal to the clearance height plus 84cm (or 3 rungs).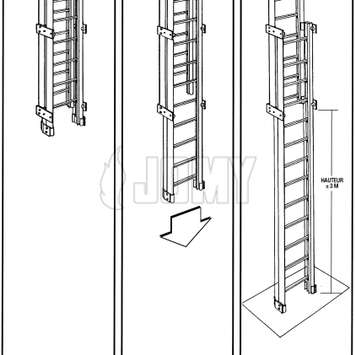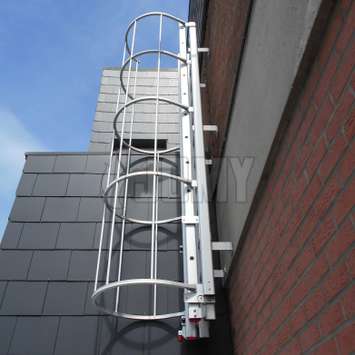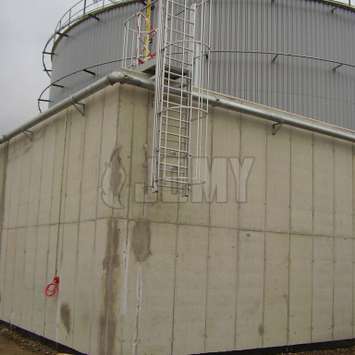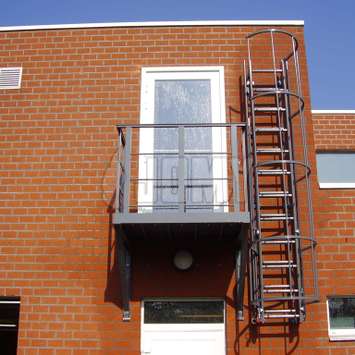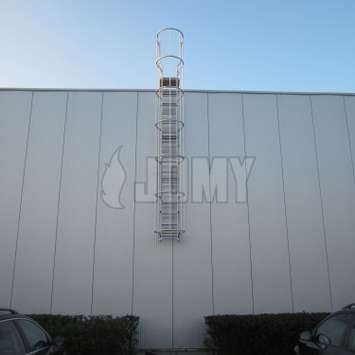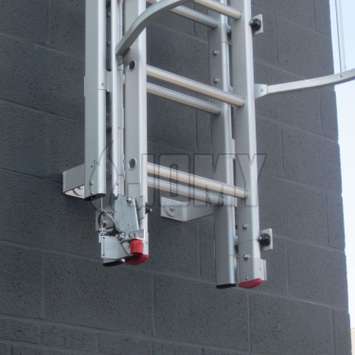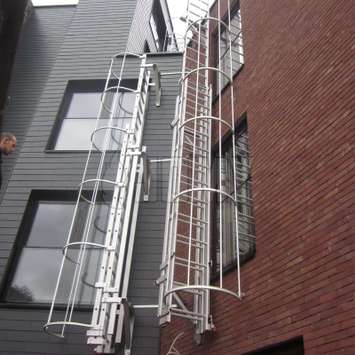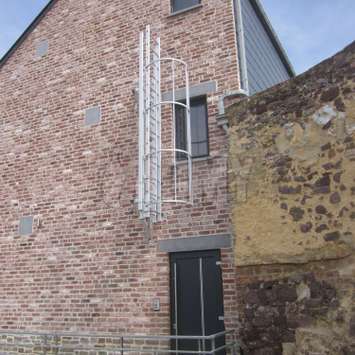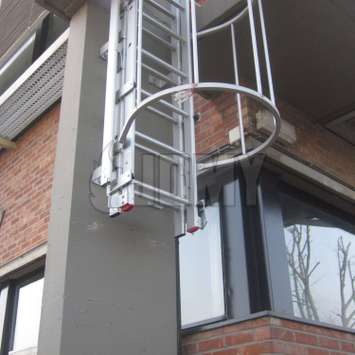 Multi-slide drop-down ladder
This ladder is ideal to store away in confined space and to be released when needed.
The JOMY multi-slide ladder is been developed to be hidden or otherwise said folded away with a minimal height so it can be placed in a confined space like the space between a ceiling and the roof. In that case it can be used to access a roof hatch so getting on the roof becomes possible.
Another place where it can be used is an attic with restricted height at the place where there is a hatch towards the floor beneath it.
JOMY can go up to 3 or 4 different elements and a minimal closed height of around 1,5 m. The maximum opened climb - height is around 4 meters.
The system is also counterbalanced with counterweights inside the ladderbeams and opens very smoothly.