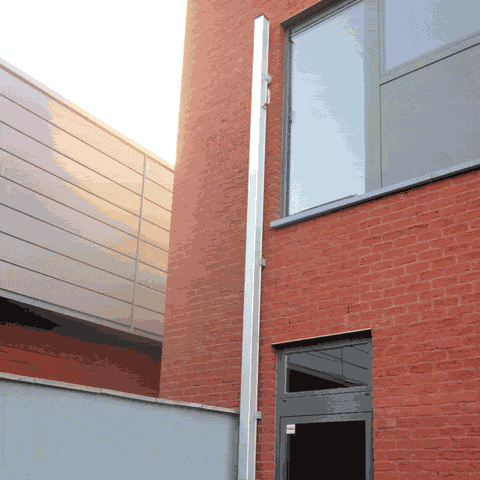 JOMY Ladder
check For fire evacuation and access.
check Opens in seconds from multiple predefined heights/floors.
check Disappears into the building like a downspout.
check Burglar resistant.
The original retractable ladder
Engineered to our highest standards by our own design bureau first in 1968, the lightweight 100% anodized aluminium JOMY Ladder can widthstand an incredible charge of up to 5,000 Kg (71 average weight adults)! It is the most robust retractable ladder on the market.
With JOMY's contemporary and refined design, architects and builders have an unobtrusive way of providing a reliable means of egress and access to their creations. With the looks of a slim downspout and available RAL color options, the JOMY vertical ladders will compliment every design.
With multiple independent opening handles, the JOMY foldout ladders are designed to perform on every level, at every level. With a one-hand smooth opening mechanism, they provide everyone with the reassurance needed in crucial moments like an emergency.
The use of marine grade anodized aluminium and a weatherproof box-section design garantees a year-long well-functioning ladder. Add a unique guardrail design, optional lifeline and a tamper-proof lockable mechanism and you are sure to have the best solution at hand.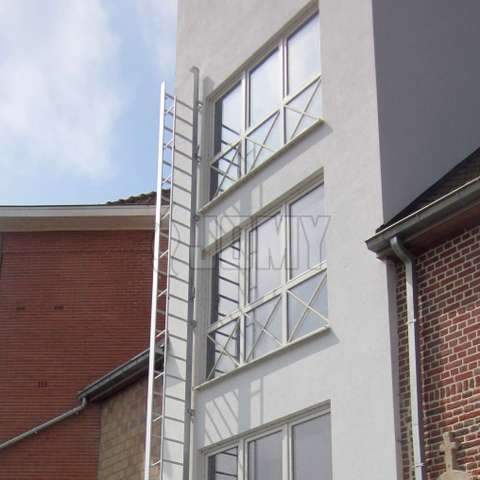 Main features

Recommended use
Evacuation and access.
Maximum height
Up to 30 m or 100 ft (and higher if needed).
Opening mechanism
Multiple independent opening handles.
Permitted charges
Rungs: 1000 lb or 450 Kg.
Ladder total: 11000 lb or 5,000 Kg.
Attachments
Standard, one attachment every 5 ft or 1.5 m.
Optionally, with reinforcement profile, one attachment every 10 ft or 3m.
Guardrail
Left or right.
Fixed lifeline for fall protection
Optional.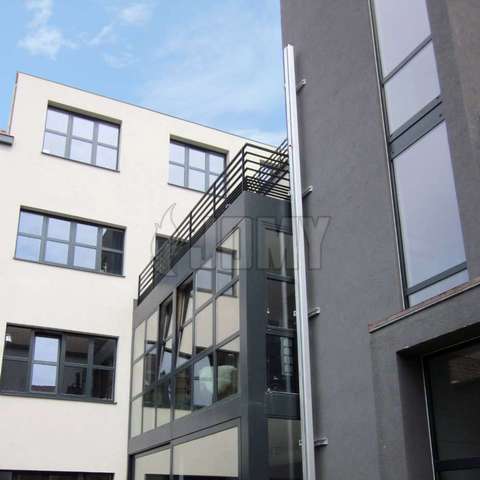 Based on popular needs and to help you choose the one that fits you the most, we have gathered hereunder the most common configurations of the JOMY Ladder .
Please use the following product references to best communicate the type of ladder you need and thus make the order process as efficent as it can be:
1. Common heights
Reference
J04
J14
J24
Closed height (mm)
5500
8550
11550
Open height (mm)
4950
7950
10950
Highest rung (mm)
4800
7800
10800
info Please note that these measurements can be made specific to your own requirements by our engineering department.
2. Distance from the wall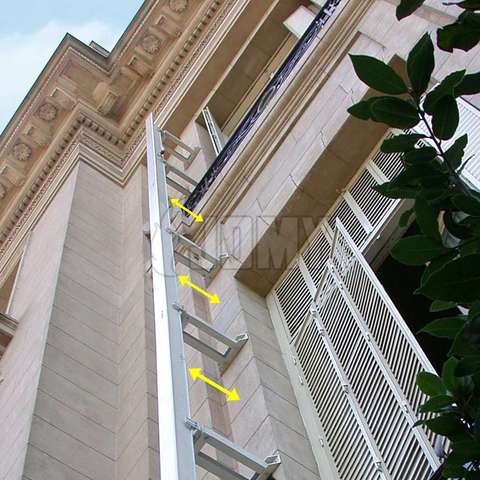 Our different mounting brackets allow for the ladder to be securely installed even if facade decorations, exterior window sills or technical wires and tubes are in the way.
| | | | | | |
| --- | --- | --- | --- | --- | --- |
| Reference | JMB00 | JMB25 | JMB50 | JMB80 | JMB100 |
| Distance (mm) | 0 | 25 | 50 | 80 | 100 |
| | |
| --- | --- |
| Reference | Distance (mm) |
| JMB00 | 0 |
| JMB25 | 25 |
| JMB50 | 50 |
| JMB80 | 80 |
| JMB100 | 100 |
3. Options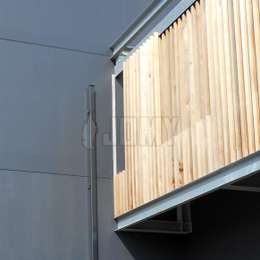 RAL color (polyester powder coating)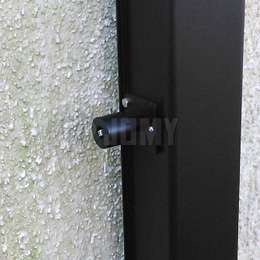 Locking hub and padlock for opening mechanism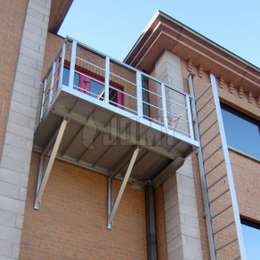 Access balcony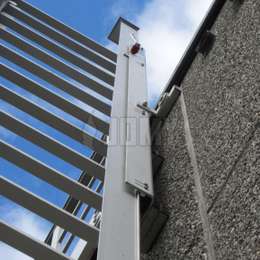 Reinforcement profile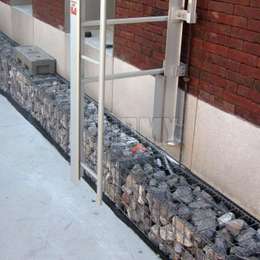 Protection against over-opening in the absence of a solid floor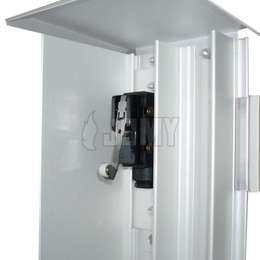 Opening detector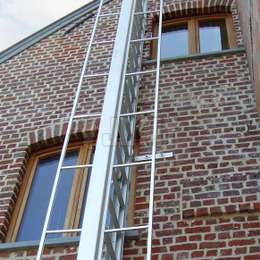 Double opening mechanism and double guardrail to use the ladder from both sides
Lifeline rail
local_shipping
Direct shipping of kit from our factory in Wihogne (BE).
format_list_numbered
All necessary mounting parts are carefully packaged and listed.