Our retractable ship ladders can be used to access industrial mezzanines, walkway platforms, work platforms, storage spaces, attics, etc.
The JOMY balanced staircase is a rotating ship ladder that is retractable and can be used to access heights such as a mezzanine, a balcony fixed against a wall, an attic platform or even a machine.
The flight rotates and is counterbalanced in such a way that a simple pull of the hand is used to raise the flight to its horizontal position or to lower it back to the ground - an easy and effortless operation.
Thus, the ladder can be raised to free up the passage below and then be quickly returned back to its position of use as necessary.
Its rotation is powered by gas springs that guide the movement and immobilize the staircase in the high (horizontal) position, in complete safety. This type of motorization does not constitute a machine and therefore has the advantage of operating by itself without maintenance and external energy supply.


Applications
Free the passageway under a mezzanine or an attic.
Access to a space situated behind the flight.
Optimize a small or cluttered space.
Limit access to the public, restrict usage.
Manage the passage of robots in automated warehouses.
Placement on a mezzanine platform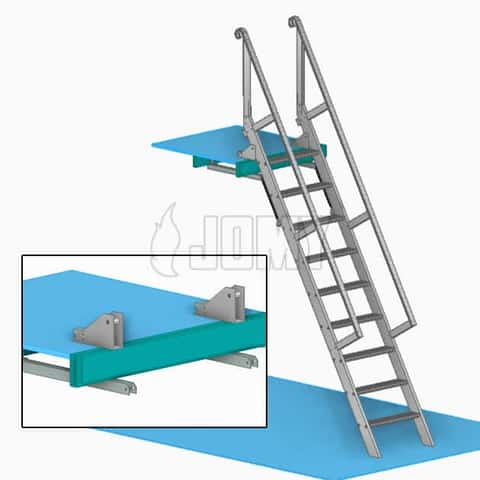 A custom fixing system is used to secure the ship ladder to the frame of the mezzanine and its main beams. This allows for the loads to be transferred to the support structure and not the floor itself.
Placement against a wall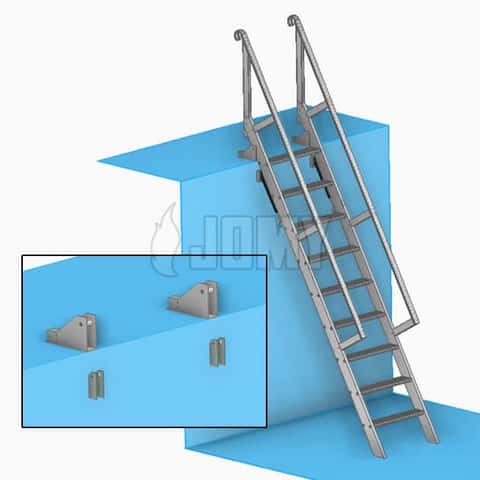 4 fixing brackets are securely attached to the wall and floor with chemical anchors in the case of a concrete structure, or with other appropriate means if the wall has a wood frame for example.